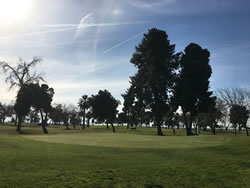 2018 has started, and the first Men's Club tournament of the year took place at North Kern Golf Course. With 19 2-man teams participating, we had a great turn out, on a beautiful day. The results are as follows.
Gross
1st- Simms & Rensel
T2nd- Bailey & Philips
T2nd- Barnes & Strange
Net
1st- Bivens & Kelly
2nd- Boling & Freeman
3rd- Joseph & Sierra
4th- O'Malley & Pratt
Closest To The Hole
#5- Lowell
#7-Bailey
#11-Bivens
#17-Kelly
Next tournament
Next months tournament will take place at Buena Vista Golf Course on February 18th and that will be the Winter Stroke Play. Please call Buena Vista Golf Course to register.
Happy golfing, and see you all in Feburary.