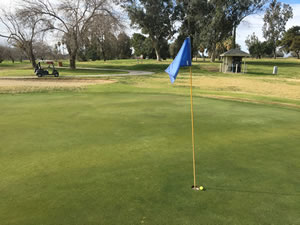 Our first Men's Club tournament of 2017 took place this last Sunday and with 28 teams competing, it was full of laughs and some good golf. Teams battled the cold weather all day and in the end, the tournament paid out 8 places (3 gross & 5 net) we also paid out skins and closest to the hole also.
Results
Gross
1st- Bivens/Kelly -7
2nd- Hall/McPherson -6
3rd- Bloxom/Sorensen -6
Net
1st- Burns/Olson 61.5
2nd- Adams/Finn 62.1
3rd- Osborn/Schmidt 62.5
4th- Calley/Pratt 63.1
5th- Elmore/Sackewitz 63.9
Closest To The Hole
#2- Jimmy Hall 8'9''
#6- Frankie Strange 2'7''
#13- Frankie Strange 5'2''
#17- Bob Osborn 3'9''
Next Tournament
Our next tournament will be February 19th and it will take place at Buena Vista Golf Course and the format is 2-man chapman,
Next weeks blog will explain the different formats, for those not familiar with some of the formats of coming up in the Men's Club.
We encourage non-members to join the men's club; it takes place the third Sunday of every month and is a fun and competitive environment for your recreational golfer.
One of the major reasons to join, even if you do not want to play in the tournaments, is you get a GHIN membership, so you can track your scores and build an official handicap.
GHIN is the acronym for Golf Handicap and Information Network. It's a service established by the United States Golf Association to provide handicaps for players at certain golf clubs and associations. A golf handicap is a numerical measurement of a golfer's ability
Hope to see you on the first tee.